International Building Design Competition
Koh Wei En, Celene, Muhd Nazrul Haque Bin Abdul Malik, Siti Nur Fatmawati Putri Rumi, Lim Wei Le, Lee Rong Jie Shawn, Muhammad Syuqri Bin M Yazid, Isaac Foo Yong Seng, Liu Xinyi, Coco Loo Li Wen, Zinampan Gerald Matthew Labandia
The IBDC 2020 is organised by Building and Construction Authority (BCA), in partnership with Singapore Polytechnic (SP), National University of Singapore (NUS), Nanyang Technological University (NTU) and Singapore University of Technology and Design (SUTD). The competition is held in conjunction with the International Built Environment Week (IBEW) 2020.
The theme for the competition was 'Sustainable & Intelligent City', stressing the importance of designing sustainable and smart building or buildings in the urban Singapore context. Teams are to design a mixed-use development that integrates residential, retail, commercial, community, and transportation usages under one roof to a totally new level, so as to maximise the land use in our land-scarce island state.
Architecture Year 3 students formed into 3 different teams together with civil / mechanical engineering and quantity surveying students from BCA Academy. These inter-disciplinary collaboration was a meaningful learning experience for the students. From a total 39 submissions, 25 submissions were shortlisted for a final presentation on 24 July 2020. All 3 Teams were shortlisted, of which 1 eventually won a Consolation Prize amidst stiff competitions from the top tertiary institutions.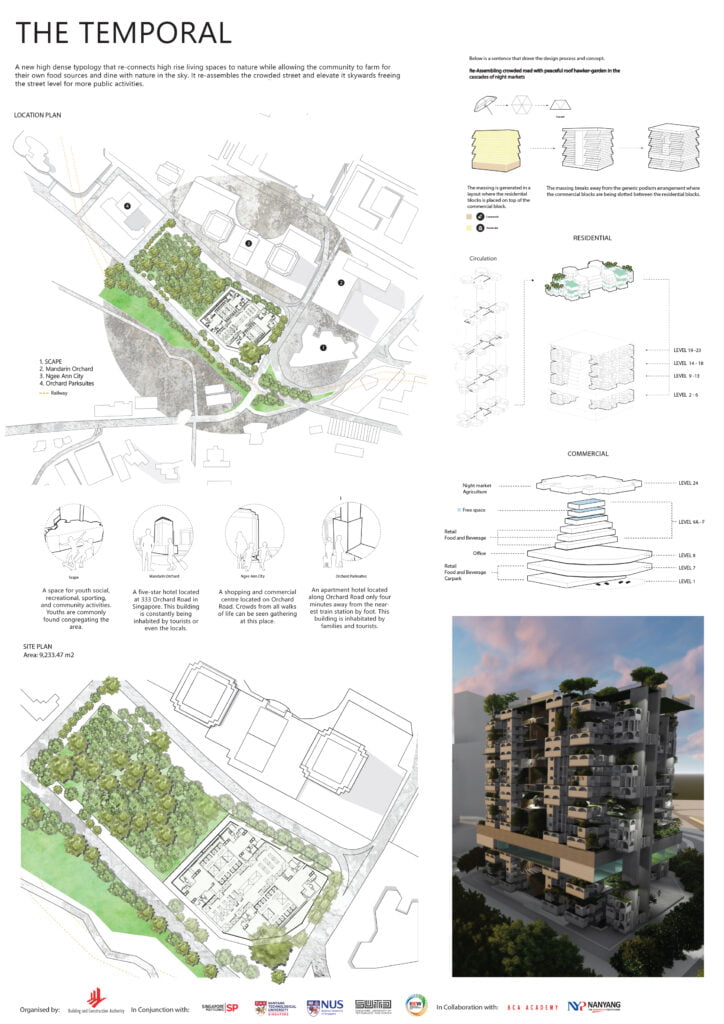 Alicia Goh Zhi Qi, Chai Ming Liang, Chan Hui Xian Jolene, Chan Zi Xin, Alexxis, Chin Qian He Paul, Chua Yong Sheng, Keith, Koh Wei En, Celene, Leong Ian Kitt, Mohammad Nur Kamarul Bin Roslan, Muhammad Syuqri Bin M Yazid, Muhammad Ziyad Syauqi Bin Rustam, Muhd Salihin Bin Mohd Salim, Ngan Koi Fong, Shawn, Nicholas Wong Ping Han, Nur Artina Binte Mohammad Noor, Nur Iffah Syaibah Binte Safie, Tham Mun Fai, Toh Kai Xuan, Yeo Megan, Zinampan Gerald, Matthew Labandia, Alson Ho Jian Wei, Bruma Nicole Kimberly Mirhan, Chen Jiaqi, Coco Loo Li Wen, Isaac Foo Yong Seng, James Timotius, Lee Dong Lin, Lee Rong, Jie Shawn, Lim Wei Le, Liu Xinyi, Mercado Manuel Miguel Saquido, Muhammad Hazim Bin Mohd Hamzah, Muhammad Nazrul Haque Bin Abdul Malik, Muhammad Nur Hakim Bin Kamsani, Nicholas Tan Li Wai, Nurismah Dewi Binti Ismail, Quentin Joel Teo Jia En, Siti Nur Fatmawati Putri Rumi, Wong Yong Kit, You Jun Ming
The main purpose of this project and collaboration is to seek innovative proposals for Emergency Shelter Design using eco-composite block materials developed by EBBC which is carried by Unit Wealth Asia Pacific Pte Ltd (UWAP). This 6-week industry project by Year 3 students from Diploma in Architecture is carried out in the form of design competition. 9 teams were formed where they pitched their innovative proposals based on the qualities of resilience to weather, sustainability, affordablility / cost effectiveness, modularity/feasibility and ability to be dismantled. EBBC / UWAP is currently working with NYP prototype the winning design.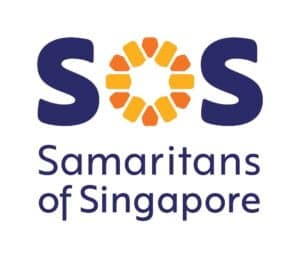 Samaritans of Singapore (SOS)
Chan Hui Xian Jolene, Alicia Goh Zhi Qi, Lee Dong Lin, Leong Ian Kitt, Zinampan Gerald Matthew Labandia
Over a period of 8 weeks, students from Diploma in Architecture and Spatial Design collaborated and worked tirelessly on the spatial design of Samaritans of Singapore's (SOS) new office. The overall design requirements / intent is to create a welcoming and inviting environment that is not too loud or dull that may affect the client's mood or receptiveness to enter the compound. Sensitive, empathetic and functional design shall be applied to the various selected spaces with its own unique requirements for both staff/volunteers and the clients.