Klobbi Virtual Events Company – Trusted and proven virtual events solution. A virtual event is more than just an online meeting. We create an online experience that make you feel as if you are there.
We create your imagination.
Our Virtual Events Platform Expertise
Enchant your audience with amazing content. Leave the virtual user experience to us.
Deliver additional mileage to your partners and sponsors. Enhance their brand presence and increase engagement. 
Set up appointments and facilitate business meetings with and among your guests. Give your audiences greater reach and exposure.
We believe there are 3 factors that make a virtual event successful. 
A reliable virtual events platform partner. Our virtual events platform is a tested and proven formula that is trusted by government and private organisations around the world.
The perfect combination of UIUX and easy to use virtual events tools. Klobbi virtual events platform is designed to maximise user engagement without a learning curve. Anyone with a desktop or phone can enjoy the virtual event experience.
Content that keeps your audiences glued to their seats. If you can engage fantastic (and sometimes controversial speakers), your audiences will be back for more. 
Our Recent Virtual Events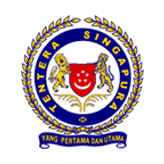 "Thank you Klobbi for the exciting new experience! We did not expect that a virtual event could be done like this. It was a pleasure working with you! We will definitely recommend your services to our colleagues"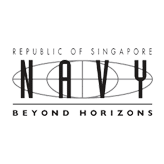 "We are very impressed by your team's management and development of the virtual events platform. Your team has turn around and successfully execute our event despite the short timeline!We look forward to working with you again."
National Day Organising Committee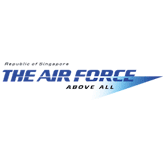 "THANK YOU KLOBBI! Very nice working experience with the team. Appreciate all the efforts and understanding towards ARFC."
Republic of Singapore Airforce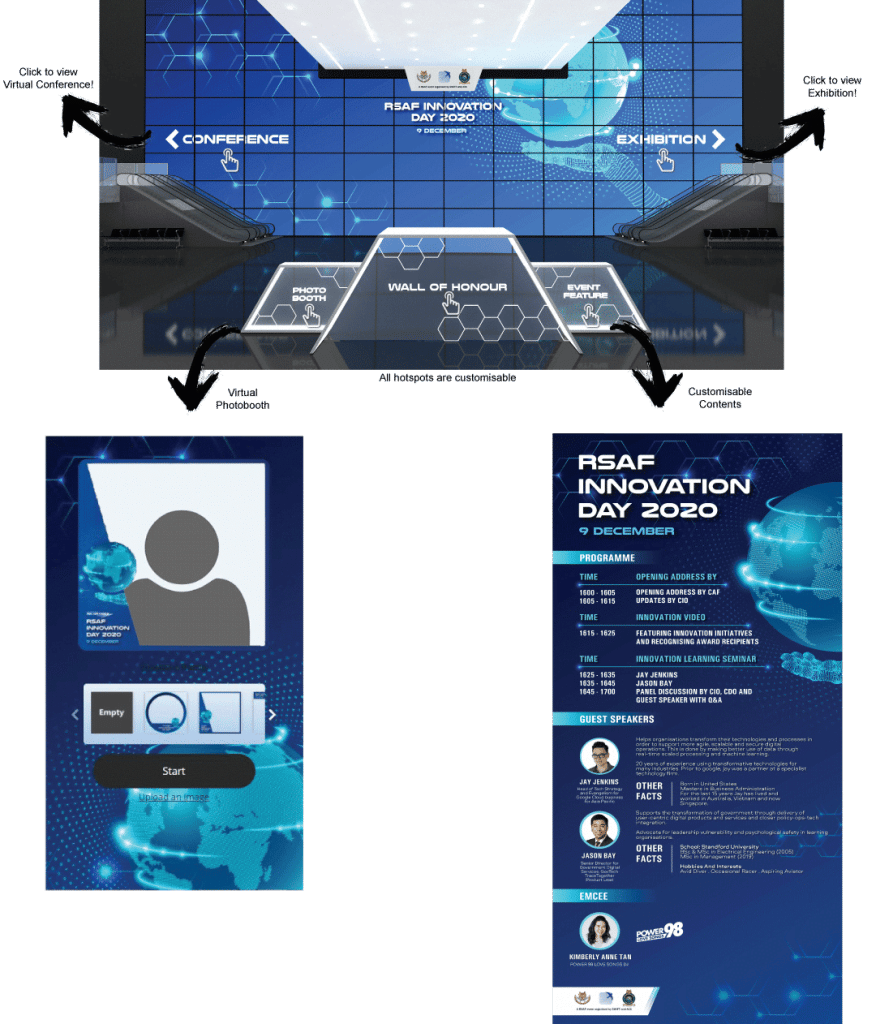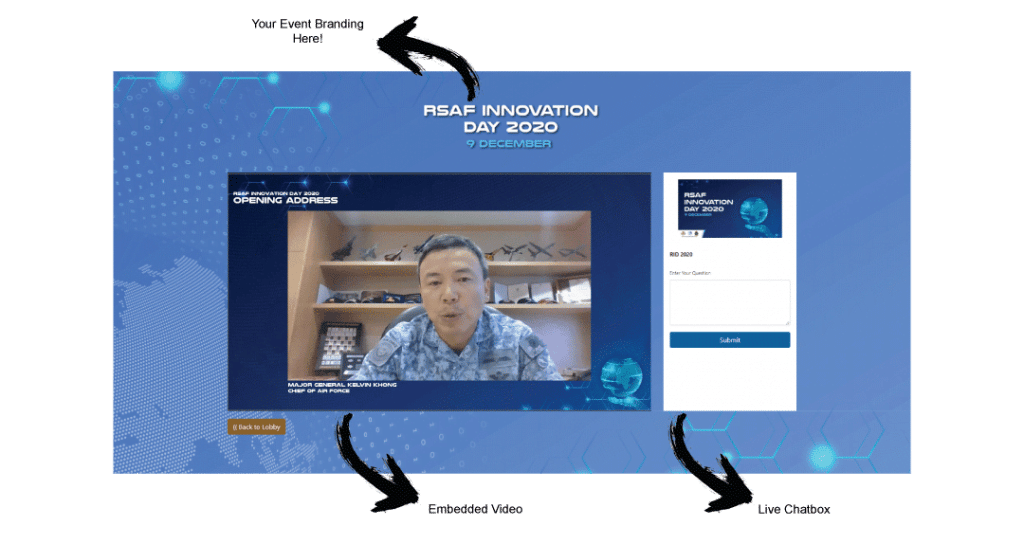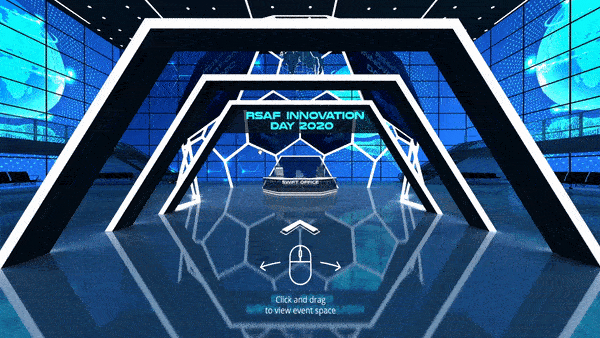 Frequently Asked Questions
The onboarding process varies for different events. 
Design
Design will take approximately 2 to 4 weeks. It depends on how quickly we can agree and obtain approval of the site design.
We are happy to work with a design team or an events management company of your choice during the design process.
Site Development
As a general gauge, the development of the virtual event site will take from 2 to 4 weeks depending of the virtual event site requirements. The development time may be longer if there are more customisations required.
User Acceptance Test
Depending on the luxury of time available, we often advice to reserve 1 week before the event for doing a round of tests. 
Event day support
Our dedicated project manager and technical team will be on standby throughout your event to troubleshoot an issues. 
Yes! We have dedicated servers located in China to ensure that viewers are able to view from Mainland China. 
We will also advice on the best practices to ensure that your site will not infringe any local prohibitions.
Klobbi's virtual events platform is designed for both mobile and desktop viewing. 
For customised designs of the virtual event site, our team will be able to advice you on a certain design formula to ensure mobile friendliness. 
While the site is accessible via mobile devices and is great for guest who wishes to catch the virtual event on the go. The optimal viewing experience of the virtual event site is still on a desktop or laptop, using Chrome browser.
You want your viewers to have the best experience from the view of a larger screen. 
Smaller screens are not ideal because the contents displayed on smaller screens will be smaller and harder to read. This is especially for data presentation such as graphs and charts. 
Our dedicated service manage will assist you throughout the building of your virtual event site. We will advice on the UIUX to ensure the viewing experience is optimised for your viewers.
We will be on full standby through your event day. We will do a full testing of your virtual event site to ensure that your virtual event runs smoothly. Our technical team will be present to troubleshoot the virtual events platform if should any issues be found. 
It is very important that we obtain full approval of designs and features before we set up the site. 
While we understand that in the events industry, it is common practice that the event site is built the night before the event. In the virtual event world, it is too risky to operate in such a manner. It is our duty to you to test and ensure that your virtual event runs smoothly.
We will try out best to accommodate any last minute changes. However, please understand that certain types of changes require a rework of the entire platform. 
We believe that the process of building this virtual event site together is equally or more important than the final product itself. 
Are you ready to being your virtual event experience?
Tell us how can we help you. Simply leave a message or your contact details and our friendly Klobbi team will contact you.